The Branch Corner–Where Branches Share Ideas and Get Resources
About This Section
Branches can read branch news in this section.  The AAUW Ohio Board encourages branches to share successful programs, projects and collaborations. What worked for you; what can you pick up from others?  Use the Contact page to send us information to post or leave writing a comment in answer to a question posted on the Branches Sharing Ideas page.
New Guide to Paying Dues
Your branch should send in dues between March 16 and June 30 for the year that begins the following July 1. Have a question, want some help?  Jana Patchen, Ohio finance officer, has updated the guide Branch Finance Officer Guide Rev Jul 2020.
Starz Program of Ohio
AAUW Ohio will continue its Starz program. Note: Ohio Starz is separate from and different than National's 5 Star program. The AAUW Ohio Board felt it has helped branches know the routines of what it means to be an AAUW branch.  You have a chance to be recognized twice!
Awards Announced at Ohio's 95th Annual Meeting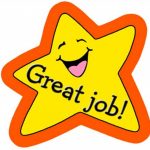 Congratulations to branches winning awards for work in 2019-20. Delegates saw slide shows announcing winners.  Presentation will take place at an award ceremony at the Fall Summit and Convention September 12 if we are able to gather then. If not, certificates will be distributed.
You truly have done a great job this year. View the entries for newsletter, program book, and social media awards.
View the winners of the 2020 awards for newsletter, program books, social media, diversity and inclusion, and Ohio's STARZ award.
More winners: websites and blogs.
---
5 Star Recognition Program
The Five Star National Recognition program is a national AAUW program conducted between July 2019 and June 30, 2021. Read more here on the national website.
---
Congratulations to Bowling Green for Receiving Their First Star and to Middletown AAUW for Receiving
a Second
Star in AAUW's Five Star Program
Bowling Green's first star was for Communications & External Relations. The branch received a letter of recognition and will be recognized in AAUW's newsletter Membership Matters.
Middletown Branch earned two stars in AAUW's 5 Star Program. How was it, we asked?  Chris Buchert, branch president, said, "harder than we thought." Their first star was for Communications and External Relations. The second one was for Advancement.
In her letter of recognition, Kendra Davis, Senior Vice President, Advancement and Partnerships, said, "Thanks to branches like yours, AAUW remains one of the most recognized and well-respected names in the fight to advance gender equity for women and girls."
AAUW Ohio offers a well-earned congratulations to Middletown and Bowling Green branches.   Do you want to know how your branch can enter?  Check it out here.
Be An AAUW Ohio Appointed Officer
Join with other Ohio leaders to lead the collaboration of AAUW Ohio branches. Work with interesting and innovative people who want to move AAUW goals forward.  Appointed positions are public policy, college/ university relations, nominating, diversity & inclusion, and district coordinators, and communications.  Each board position also has a committee if you want to just sign on to help or learn. Let Mickey Radtkin know of your interest.
AAUW Ohio Members Were Inspired by Kendra Davis
Fall Summit 2019 and Kendra's Discussion Slides
Kendra Davis, AAUW senior vice president for advancement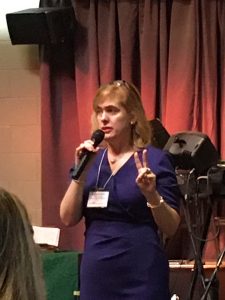 and partnerships, pointed the way and reinforced steps in AAUW Ohio's two-year strategic topic Women's Economic Security/Pay Equity: Two Sides of the Same Coin as she spoke with members at the AAUW Ohio Fall Summit Saturday in Worthington.  Ohio's plan is to use AAUW resources like the free Work Smart Online and AAUW's research to raise consciousness and activate Ohioans to work together for pay equity as a way to ensure economic security.
Kendra celebrated AAUW's 2019 successes: states passing fair pay laws, a new city partnership to train 10,000 women to negotiate, high attendance at NCCWSL, 1,200 media articles that reached more than 14 million people, and the big one–training  102,000 to negotiate by August 2019 to meet the Coca Cola challenge. She explained the new national 5 Star Recognition Program to help coordinate branch work with AAUW's pillars for change: Education, Economic Security, Leadership. Read more and enter your branch accomplishments. The program ends in June, so don't delay.
AAUW can respond quickly to current issues as they arise using monies in the Greatest Needs Fund.  Donors and branches wishing to move the drive for equity forward are urged to give to AAUW's Greatest Needs Fund.
See Kendra's presentation, Fall Summit Update from National Office.
The password-protected Branch Resources page contains more private information such as The Ohio Directory of Branch and State Officers, the AAUW Ohio Bylaws, and AAUW Ohio's Policy Book.  Read more.

It's Time to Update Your Branch Website
Middletown and Medina County won the awards for best website. Have a look, then give it a try for your own site. Share your events with your community and keep your members involved. Post your events for the year on your website. While you are there, find the AAUW of Ohio link on the right side of the screen. Click on it to see if it takes you to this site. If not, read on for step by step instructions of how to update the link. If you do not have rights to do it yourself, request that Site Resources do it for you.
Update Your Website Link to AAUW Ohio
Here's how to do it.
1. Log in to your website.
2. Find the black sidebar on the left. It says, "Dashboard" at the top. Read down to find the word, "Links" and click on it.
3. This opens a page with a list of links. Look for one that says, AAUW of Ohio and click on it.
4. You need to change the Web Address.
5. Click in the box and erase the old address.  Now, paste in the new web address https://aauw-oh.aauw.net
6. Click the blue Update button.  Congratulations; you're done!
Log out and test your work.
Now that you can easily go to the new AAUW Ohio website, try the Branch Corner and the Branch Resources page. The Branch Resources  page is password-protected. Type the letters, aauwohmember, to access the page. This password is always listed at the top of the Orbit sidebar titled "How To Reach Us."  You should find the Directory of Branch Officers and other helpful things on the Branch Resources page.
What Makes A Good Leader?
AAUW National asked AAUW's members and supporters to share their perspectives on social media and via email about what makes a good leader as part of a regular feature called #AAUWAsks. We think they came up with a pretty awesome job description. Here's a compilation of what they had to say:
A good leader …
Is willing to compromise and has empathy, intelligence, patience, confidence and humility.
Sees herself as an equal rather than a superior.
Absorbs the blame and shares the credit.
Listens to other people's needs and acts only after they've heard everyone's concerns.
When women are at the table, the conversation changes. Read more leadership perspectives on the national site.
---
Keep in touch with AAUW by checking to see if your contact information is correct in the Member Services Database.  Having trouble finding National AAUW's Member Services Database?  Have your member number and password handy, then click here.