AAUW Ohio Coffee and Convos Book Discussions 2020/2021 –Fall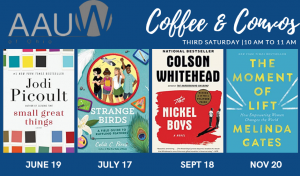 June 19, 2021, SMALL GREAT THINGS by Jodi Picoult (2016)
The story concentrates on an African-American labor/delivery nurse, Ruth Jefferson, in charge of newborns at a Connecticut hospital. Ruth is ordered not to touch or go near the baby of a white supremacist couple. After the baby dies in her care, Ruth is charged with murder, and taken to court. https://aauwohiojune.eventbrite.com
 July 17, 2021, STRANGE BIRDS by Celia Perez (2019)
From the award-winning author of The First Rule of Punk comes the story of four kids who form an alternative Scout troop that shakes up their sleepy Florida town.  Relates to AAUW issues and values. https://aauwohiojuly.eventbrite.com
September 18, 2021   NICKEL BOYS by Colson Whitehead (2019)
The novel is loosely based around a real-life true case of systemic abuse at a borstal-type facility in 1960s America. Whilst the novel deals with themes of physical/emotional/sexual abuse, it does so in a sensitive manner. https://aauwohiosept.eventbrite.com
November 20, 2021, THE MOMENT OF LIFT by Melinda Gates (2019)
"In her book, Melinda tells the stories of the inspiring people she's met through her work all over the world, digs into the data, and powerfully illustrates issues that need our attention—from child marriage to gender inequity in the workplace." — President Barack Obama "The Moment of Lift is an urgent call to courage. It changed how I think about myself, my family, my work, and what's possible in the world. https://aauwohionov.eventbrite.com
Next year: AAUW Ohio Coffee and Convos Book Discussions Spring 2022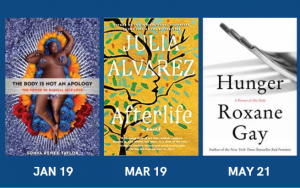 January 19, 2022, THE BODY IS NOT AN APOLOGY by Sonia Renee Taylor (2018) 
The Body Is Not an Apology is essential reading for those of us who crave understanding and those who are already on the path to learning how beautiful and complex our bodies are. It will empower you with the tools to navigate a world that is often unkind to those of us who whether by choice or design don't adhere to society's standard of beauty. 
March 19, 2022   AFTERLIFE by Julia Alvarez (2020) 
Antonia Vega, the immigrant writer at the center of Afterlife, has had the rug pulled out from under her. She has just retired from the college where she taught English when her beloved husband, Sam, suddenly dies. And then more jolts: her bighearted but unstable sister disappears, and Antonia returns home one evening to find a pregnant, undocumented teenager on her doorstep. Antonia has always sought direction in the literature she loves—lines from her favorite authors play in her head like a soundtrack—but now she finds that the world demands more of her than words.  
May 21, 2022 HUNGER: A MEMOIR OF (MY) BODY by Roxane Gay (2017)
In her brutally honest and brave memoir Hunger, Gay recounts a childhood sexual assault that led her to purposely gain weight to be unseen and therefore "safe." Gay warns at the beginning of the book that if you're looking for a triumphant weight-loss memoir, this is not it. But Hunger is a triumph nonetheless. It's a story not easily told, but the telling set her free.
AAUW Ohio Coffee and Convos Book Discussions 2020/2021 – Fall/Spring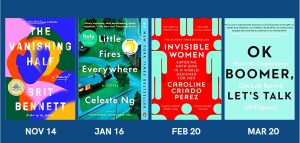 November 2020 – Racism
Saturday, November 14th
Time: 10:00am to 11:00 am via Zoom
The Vanishing Half: A Novel Brit Bennett, 2020
The approximate book cost $16
Lead discussion: Marlene De La Cruz and Naykishia Head
January 2021 – The ways that race, class, motherhood, and belonging intersect to shape each individual.
Saturday, January 16th
Time: 10:00am to 11:00 am via Zoom
Little Fires Everywhere, Celeste Ng 2019
Approximate Book Cost $10
Lead discussion: Linda Lehman and Diane Ahlers
February 2021 – Women and Leadership
Saturday, February 20th
Time: 10:00am to 11:00 am via Zoom
Invisible Women: Data Bias in a World Designed for Men, Caroline Criado Perez 2019 Approximate Book cost $16
Lead discussion: Deborah Wooldridge and Rush Rodgers
March 2021 – Working across the generations
Saturday, March 20th
Time: 10:00am to 11:00 am via Zoom
OK Boomer, Let's Talk: How My Generation Got Left Behind, Jill Filipovic 2020
Approximate Book cost $15
Lead discussion: Adriene Knight and Deborah Wooldridge