AAUW Ohio Coffee and Convos Book Discussions Spring 2022
Follow the link here for the calendar: Coffee and Convos
Winter/Spring 2022 Books Discussions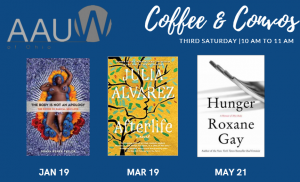 January 19, 2022, THE BODY IS NOT AN APOLOGY by Sonia Renee Taylor (2018)
https://aauwohiojan2022.eventbrite.com
March 19, 2022   AFTERLIFE by Julia Alvarez (2020)
https://aauwohiojan2022.eventbrite.com
May 21, 2022 HUNGER: A MEMOIR OF (MY) BODY by Roxane Gay (2017)
---
AAUW's Equity Network — An Inclusive Community with One Goal: Equity for All
Are you interested in building your network, enhancing your professional development, and working alongside others to advocate for change? The Equity Network is advancing the conversation and leading the charge to achieve equity for all. Connect with individuals who share your commitment to inclusion on our campuses, in our workplaces, and in our communities — and who want to do something about it.  Learn more about Equity Network
---
AAUW Trains Women To Negotiate

Moving on to train the next million . . .
Use the free tool AAUW's Work Smart Online.  Find out more… Register for Work Smart Online.  Everyone benefits from knowing how and when to negotiate. Have you heard that the online course is free?
How's Your Alone Time Going?
In a notice canceling Northeast Ohio's next event, the email suggested some things to do in your newfound alone time.
Keep in touch with family and friends by phone, email, FaceTime, Facebook, etc.
Write them a letter like the governor suggests – write about a time in your life you haven't told them about yet.
Start a journal.
Attack that pile of books you haven't had time to read or get eBooks from the library.
Plan your garden.
Do a jigsaw puzzle.
Sew on those buttons.
Work in the yard.
Learn a language or take a class through the library databases – Mango and Lynda.
Watch a movie with Hoopla.
Try a new recipe.
There are so many things you can do. It will be fun when we do get back together hearing what everyone did.
The Cumulative Impact of Sexual Harassment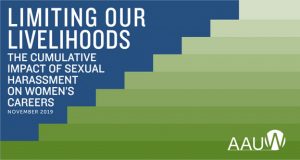 AAUW's newest research report finds that workplace sexual harassment can take a toll on women's physical and mental health, limit their job choices, reduce prospects for career development and even force them out of the workforce. These negative effects compound over time, reducing women's lifetime earnings, and contributing to both the gender and retirement wage gaps, the report concludes.
Join us to make an impact on women and girls. Download the report from our national site.
AAUW Ohio Outlines Legislation to Watch
Ohio General Assembly 133rd Session introduced bills on economic issues, human trafficking, education, and gun control. Economic issues include an Equal Pay Act, Family and Medical Leave, and a "pink tax" exemption. These are bills to watch and make your opinion known to your Ohio legislators. Read more on our Advocacy page.
---
In principle and in practice, AAUW values and seeks an inclusive membership, workforce, leadership team, and board of directors. There shall be no barriers to full participation in this organization on the basis of age, disability, ethnicity, gender, gender identity, geographical location, national origin, race, religious beliefs, sexual orientation, or socioeconomic status.