AAUW Trains Women To Negotiate

Benchmark goal met: to train one million by August 2019! Moving on the next million . . .
Use the free tool AAUW's Work Smart Online.  Find out more… Register for Work Smart Online.  Everyone benefits from knowing how and when to negotiate.
Convention 2020 April 18, 2020
Plan to join AAUW members April 18, 2020 at the Quest Polaris Conference Center on the north side of Columbus, Ohio for a day of learning and sharing as we fill a day with a surprise keynote speaker and sessions with camp and NCCWSL attendees and others discussing current topics.
AAUW Ohio Leaders: The Importance of Serving
Serving an organization or a community is so very important. Where would we be without those who help pique our interest and urge us on to change and do things we can improve? Members–won't you join the AAUW Ohio Board, or nominate a member to become an officer?  Election will be held at Convention 2020. Nominations are due December 15, 2019
Find the AAUW Ohio Nomination Form 2019-2020 here or on the Branch Corner page; read more about the State Board's activities in the Policy Book found on the Branch Resources page.
Student Leaders: 2020 NCCWSL Registration is Now Open
AAUW's National Conference for College Women Student Leaders (NCCWSL) is the premiere leadership event for college women in the US. Attend NCCWSL and unlock your leadership potential!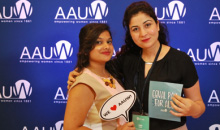 When:

May 27–30, 2020


Where:

University of Maryland Campus
Register by February 16 to save $100
Taking Note of Branch Events . . . 
Outcomes of Film and Discussion BGSU on Campus Sexual Assault
Hunting Ground, a documentary about campus sexual assault was shown at BGSU, followed by a small-group discussion. Find out what they learned by visiting the Branch Events page.
Branch Event Asks, "What If Ohio Helped, Instead of Punishing Its Poorest Schools? "
AAUW publishes news from the branches. Read more about Jan Ressenger's talk to a joint event for Northeast and Heights-Hillcrest-Lyndhurst, Ohio branches. Available on the Branch Events page. Read the talk and the statistics, then write your legislators.
Read the August 2019 AAUW Ohio Orbit for news about the Fall Summit, public policy and more. If you are an Ohio branch member and did not receive your Orbit by email or if you want to be added to our mailing list, please use the Contact Us link above.
AAUW Empowers Women To Negotiate
Take the free e-course; learn how to negotiate for more money and better benefits. Sign up, learn.

AAUW Ohio Outlines Legislation to Watch
Ohio General Assembly 133rd Session introduced bills on economic issues, human trafficking, education, and gun control. Economic issues include an Equal Pay Act, Family and Medical Leave, and a "pink tax" exemption. These are bills to watch and make your opinion know to your Ohio legislators. Read more on our Advocacy page.
The Ohio Legislature and Women's Interests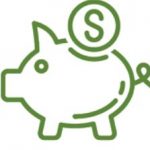 Find more about women's economic security on our Advocacy pages.  Is 80 cents on the dollar right? How is the Ohio legislature doing for women and families?
---
In principle and in practice, AAUW values and seeks an inclusive membership, workforce, leadership team, and board of directors. There shall be no barriers to full participation in this organization on the basis of age, disability, ethnicity, gender, gender identity, geographical location, national origin, race, religious beliefs, sexual orientation, or socioeconomic status.