---
AAUW Ohio Fall 2021 Conferences
State Conference: All conferences will be held virtually.  We hope to have our first in-person meeting in the Spring of 2021.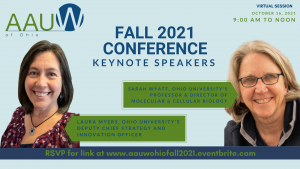 Theme: Empowerment through an Inclusive Membership
The program includes keynotes speakers and panel discussions.
Keynote Speakers:
Laura Myers, Ohio University's Deputy Chief Strategy and Innovation Officer
Sarah Wyatt, Ohio University's Professor & Director of Molecular & Cellular Biology
Panel Discussion:
Naykishia Darby Head (Moderator, President of AAUW/Bowling Green)
Ramonda Kindle
Shervonne ND
John Zibbel
LINK TO REGISTER: Fall 2021 Conference
AAUW Ohio Coffee and Convos Book Discussions Fall 2021 Follow the link here for the calendar: Coffee and Convos
Summer/Fall 2021 Books Discussions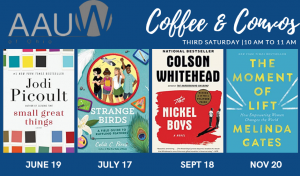 September 18, 2021   NICKEL BOYS by Colson Whitehead (2019) https://aauwohiosept.eventbrite.com
November 20, 2021, THE MOMENT OF LIFT by Melinda Gates (2019) https://aauwohionov.eventbrite.com
---
AAUW's Equity Network — An Inclusive Community with One Goal: Equity for All
Are you interested in building your network, enhancing your professional development, and working alongside others to advocate for change? The Equity Network is advancing the conversation and leading the charge to achieve equity for all. Connect with individuals who share your commitment to inclusion on our campuses, in our workplaces, and in our communities — and who want to do something about it.  Learn more about Equity Network
---
AAUW Ohio's Officers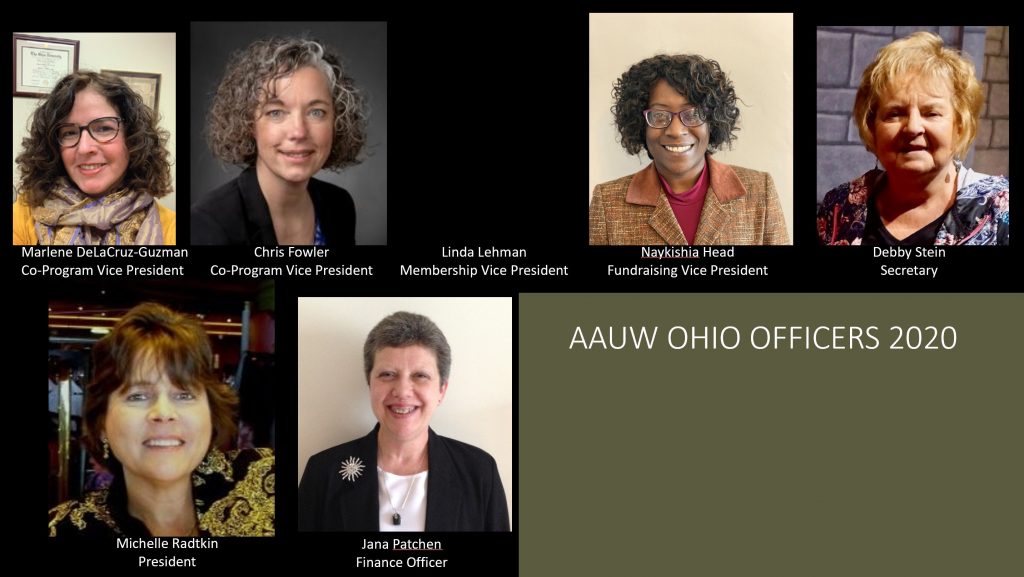 President Michelle Radtkin, Co-Program Vice Presidents Marlene De La Cruz-Guzman and Chris Fowler, Membership Vice President Linda Lehman, Fundraising Vice President Nakishia Head, Secretary Debby Stein, and Finance Officer Jana Patchen.
Contact information is posted on the Branch Resources page and in the nation's MSD, select State Officers, 2020-2021.
Finance Officers Guide
Branch finance officers should become familiar with the new guidance for paying dues. Read about it here.
Branch Awards Announced
Branches receiving awards for 2019-20 were announced at the end of the 95th Annual Meeting on April 25, 2020. Awards were given for newsletters, program books, websites, social media, diversity and inclusion, and Ohio's STARZ award.  View the slide shows on the Branch Corner page. Read about the awards in the Spring 2020 Orbit.
Submit Your Branch Officer List Now
Branches with Ohio-Updated Lists: Wooster, Findlay, Youngstown, Middletown, Cleveland, Warren-Trumbull County, Zanesville, Bowling Green,  Worthington, Medina, Washington Court House, Heights-Hillcrest-Lyndhurst,  Northeast, and Circleville
Don't wait or you will lose your rights in the nation's member services database. Even if your officers are the same as last year, you must submit the new list before June 30–once to national and once to Ohio. While you are doing this, consider appointing another member to have the right to access the data in case you are unable to do it.  Note: AAUW Ohio restricts your contact information to the password-protected Branch Resources page. Check there for emails.
Updating officers is a two-part job–once with national and once with Ohio.
Fill in this Branch Officers Form and email it to Ohio's administrative coordinator   Even if your officers are the same as last year, send your list.  Include the office, first and last name, street, city, zip, phone, and email address.
The second part: submit your officers to AAUW by logging in to the Member Services Database (MSD).  On the new website, near the top, click on Membership.  Click on the Membership Services Database. You will need to log in.  The next part is easy:  you can select members and officers from lists–no typing required. Later this year, the MSD will change, but until then, it's the same one you know–just a different route to find it.
Orbit Newsletter
Read the Spring 2020 AAUW Ohio Orbit today.
Taking Note of Branch Events . . .

Read about news for branches on the Branch Corner page and news from branches on the Branch Events page.
AAUW Trains Women To Negotiate

Moving on to train the next million . . .
Use the free tool AAUW's Work Smart Online.  Find out more… Register for Work Smart Online.  Everyone benefits from knowing how and when to negotiate. Have you heard that the online course is free?
How's Your Alone Time Going?
In a notice canceling Northeast Ohio's next event, the email suggested some things to do in your newfound alone time.
Keep in touch with family and friends by phone, email, FaceTime, Facebook, etc.
Write them a letter like the governor suggests – write about a time in your life you haven't told them about yet.
Start a journal.
Attack that pile of books you haven't had time to read or get eBooks from the library.
Plan your garden.
Do a jigsaw puzzle.
Sew on those buttons.
Work in the yard.
Learn a language or take a class through the library databases – Mango and Lynda.
Watch a movie with Hoopla.
Try a new recipe.
There are so many things you can do. It will be fun when we do get back together hearing what everyone did.
The Cumulative Impact of Sexual Harassment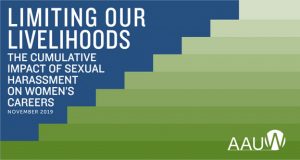 AAUW's newest research report finds that workplace sexual harassment can take a toll on women's physical and mental health, limit their job choices, reduce prospects for career development and even force them out of the workforce. These negative effects compound over time, reducing women's lifetime earnings, and contributing to both the gender and retirement wage gaps, the report concludes.
Join us to make an impact on women and girls. Download the report from our national site.
AAUW Ohio Outlines Legislation to Watch
Ohio General Assembly 133rd Session introduced bills on economic issues, human trafficking, education, and gun control. Economic issues include an Equal Pay Act, Family and Medical Leave, and a "pink tax" exemption. These are bills to watch and make your opinion know to your Ohio legislators. Read more on our Advocacy page.
---
In principle and in practice, AAUW values and seeks an inclusive membership, workforce, leadership team, and board of directors. There shall be no barriers to full participation in this organization on the basis of age, disability, ethnicity, gender, gender identity, geographical location, national origin, race, religious beliefs, sexual orientation, or socioeconomic status.