AAUW Ohio Spring 2022 District Conferences

_____________________________________________________________________________________________________
AAUW Ohio Spring 2021 District Conferences.
District Conferences: All conferences will be held virtually. We hope to have our first in-person meeting in the Fall of 2021.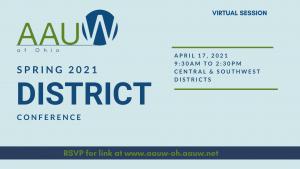 April 17 – Ohio Central & Southwest District.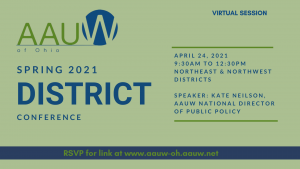 April 24 – Northwest & Northeast District.
Post Session: Northwest & Northeast AAUW Ohio Spring 2021 District Conferences
_____________________________________________________________________________________________________
2020 Vision Convention Combined with 2020 Fall SummitPart 1 & 2 – October 2020AAUW Ohio Spring 2021 District Conferences
Part 1: Women's Rights and Advocacy 100 years after Selective Suffrage with Lisa Maatz.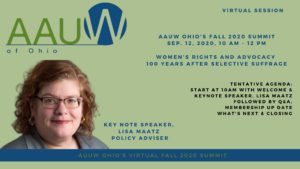 Lisa Maatz, AAUW's former top Policy Advisor inspired attendees to make plans for after the November election. 49 attendees at the September Zoom event heard Lisa's advice on Women's Rights and Advocacy 100 Years after Selective Suffrage.
Part 2: Gendered Impacts of Covid-19 with Dr. Cynthia Anderson, Chair and Professor of Sociology and Director of Women's, Gender and Sexuality Studies at Ohio University.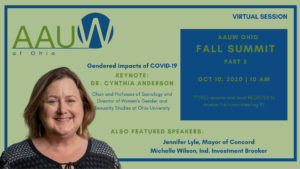 Dr. Cindy Anderson's research revolves around women, work, and rural labor markets. Her current project focuses on distressed Appalachian counties. She teaches classes in sociological theory, feminist theory and introduction to sociology. In addition to AAUW, Dr. Anderson is active in the National Association for Women's Studies, Sociologists for Women in Society, and Rural Sociological Society. She has participated in various leadership courses, including HERS Higher Education Research Services (HERS), American Council on Education (ACE), and American Sociological Association (ASA).