NCCWSL 2021:

AAUW Ohio Scholarship Opportunity!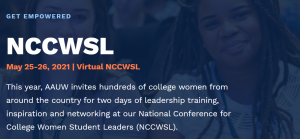 This year, AAUW invited hundreds of college women from around the country for two days of leadership training, inspiration, and networking at our National Conference for College Women Student Leaders (NCCWSL). 
The date is May 25 & 26, virtual event with early bird registration for $95 until Feb 28, Regular price: $125.
AAUW Ohio is provided scholarships to any college students that interested in attending 2021 NCCCWSL. Contact Deb Wooldridge at email dgwoold@bgsu.edu for more information or print/submit your application here.nccwslAAUWOHScholarshipApplication2021