NCCWSL 2020 Postponed
Check with the nccwsl site for updates. We have posted old information here about scholarships for the National Conference for College Women Student Leaders (NCCWSL), so you can plan for a time when we can again convene together.
NCCWSL Ohio Scholarships
For the postponed event, there were opportunities for Ohio college women to receive scholarships. Two NCCWSL sponsors, PPG and DuPont, NCCWSL offered to provide approximately five scholarships for Ohio STEM attendees.  Scholarship recipients were to receive airfare and registration to attend NCCWSL May 27-30, 2020 at the University of Maryland, College Park.
Eligibility requirements:
• STEM applicants must be enrolled in a STEM degree program
• Be a student in the state of Ohio
• Follow the AAUW National Scholarship Application dates and guidelines
Applicants must apply to NCCWSL by February 16, 2020.  More information… Watch for news.
AAUW Ohio's support can often provide two more scholarships for other Ohio college women student leaders.  The following remains posted here for those who want to plan for a time when we have COVID19 in control in the US.  Application for an AAUW Ohio scholarship to NCCWSL is a two-step process:
Apply to NCCWSL by February 16, 2020
Return NCCWSL AAUW Ohio Scholarship Application and NCCWSL 2020 Registration Form so they will be received by March 18 at the Cleveland offices shown in the forms.
Student Leaders: Read About NCCWSL
Want to learn more about leadership and professional development? Or how to become an activist on issues that matter to you? Then register for #NCCWSL2020! This year we will be hosting dozens of workshops and panels on #activism and #career development. nccwsl.org
AAUW's National Conference for College Women Student Leaders (NCCWSL) is the premiere leadership event for college women in the US. Attend NCCWSL and unlock your leadership potential!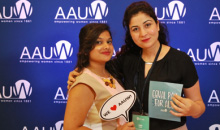 When: May 27–30, 2020, postponed
Where: University of Maryland Campus
Early Bird Registration by February 16 to save $100 and to be eligible for a scholarship